Episodes
Tuesday Jul 18, 2023
Tuesday Jul 18, 2023
The world of wealth management is rapidly changing. To stay ahead, you need to collect the right data and truly understand it so that you can personalize your communications and better speak to your clients.
At our event, "Using Analytics to Unlock Client Insights in Wealth Management," you will learn how to embrace modern analytics technologies to acquire new clients and enhance relationships with the ones you already have.
During the event, you will discover:
The five pillars of a modern analytics program and how they apply specifically to wealth management.
How to pair qualitative client journeys with quantitative data to create more targeted marketing campaigns and gain insights into client behavior.
The importance of using data to personalize the client experience and improve client retention.
Strategies for embracing modern analytics technologies, including AI and ML, to better speak to the newer demographics in the industry.
Don't miss this opportunity to embrace the power of data analytics and stay competitive in today's ever-evolving wealth management landscape.
Our Panelists: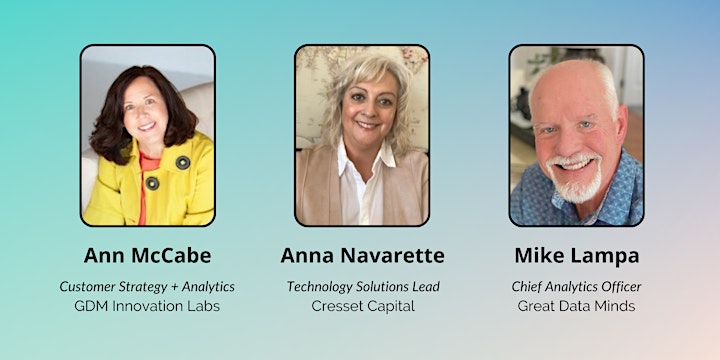 Ann McCabe brings a wealth of experience in Digital Strategy and Technology, with a hyper-focus on using analytics to crack the client code. She fits most comfortably at the intersection of Digital Marketing, Commerce, Content Management, User Experience, Loyalty, and Analytics.
Anna Navarette works as the Director, Sales & Marketing Solutions Lead, at Cresset Capital, a boutique family office and private wealth management firm serving CEO Founders, Entrepreneurs, Partners, Wealth Creators, HNW and multi-generational families across the nation.
Mike Lampa is an accomplished transformation agent, with a specialty in modernizing enterprise Data and Analytics Programs. Mike's expertise lies in the selection and implementation of modern technology tools, platforms, and tactical migration road maps.
Find us online:
- Website: https://www.greatdataminds.com/
- List of upcoming events: https://www.greatdataminds.com/events/
- Community page: https://www.greatdataminds.com/commun...
Connect with us on social:
- LinkedIn: https://www.linkedin.com/company/great-data-minds/
- LinkedIn Group:  https://www.linkedin.com/groups/14013748/
- Facebook: https://facebook.com/Great-Data-Minds
- Twitter: https://twitter.com/GdMinds